Introduction
In today's competitive landscape, cold emailing remains one of the most effective strategies for B2B marketing and sales. Woodpecker has been a go-to tool for many. But what if you're looking for something different? Maybe a tool that offers a feature Woodpecker doesn't have? Well, you're in luck. This article digs deep into the top 9 alternatives to Woodpecker, each offering unique capabilities that might just catch your eye.
The Woodpecker Overview
Why Woodpecker is a Good Tool
Woodpecker has earned its reputation for a reason. Its features are tailored to make your cold emailing process seamless. Here are some of its benefits:
Email Tracking

: Know who opened your email and when.

Automated Follow-Ups

: Set it and forget it; Woodpecker takes care of the follow-ups.

Personalization

: Make each email feel like it's written just for the recipient.

Team Collaboration

: Easily collaborate with your team on campaigns.
Woodpecker offers various pricing plans, starting at around $54/month/email slot for 1500 emails and basic features. They offer scalable options depending on the size of your team and the features you need.
Note: The pricing varies with the number of email slots and the billing option (Annually/Monthly) you choose.
Here is a quick snapshot of its pricing page: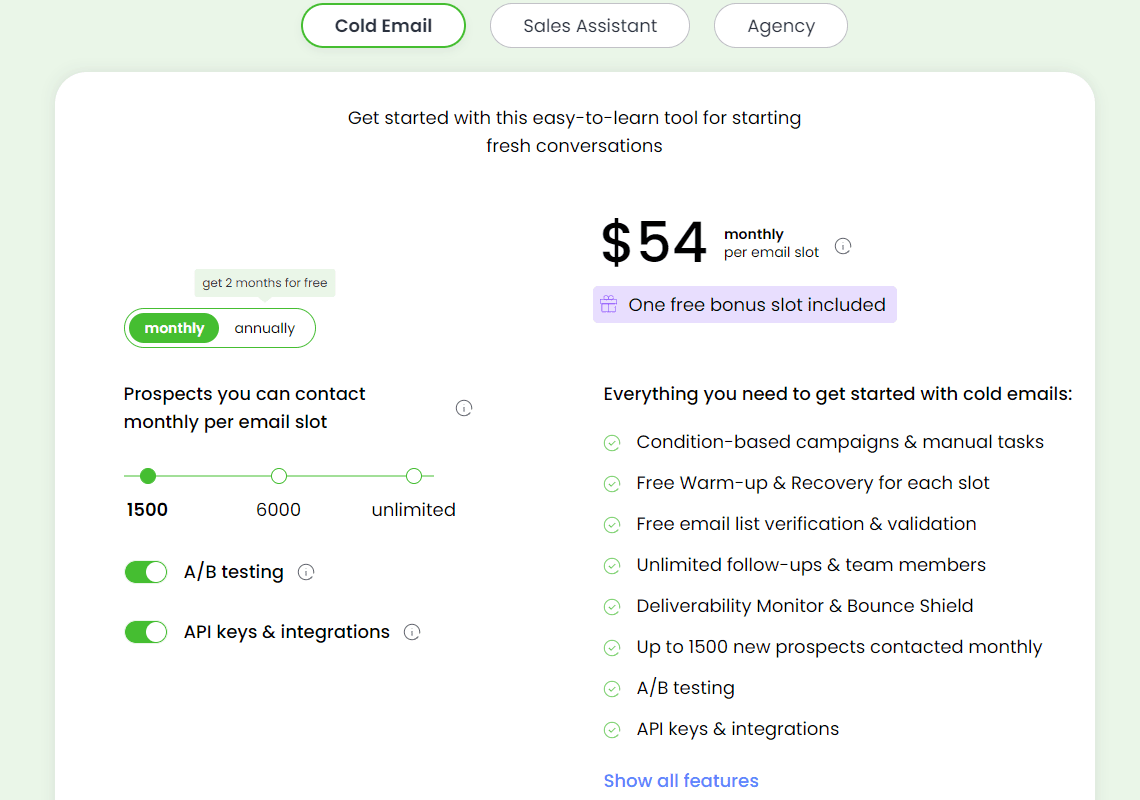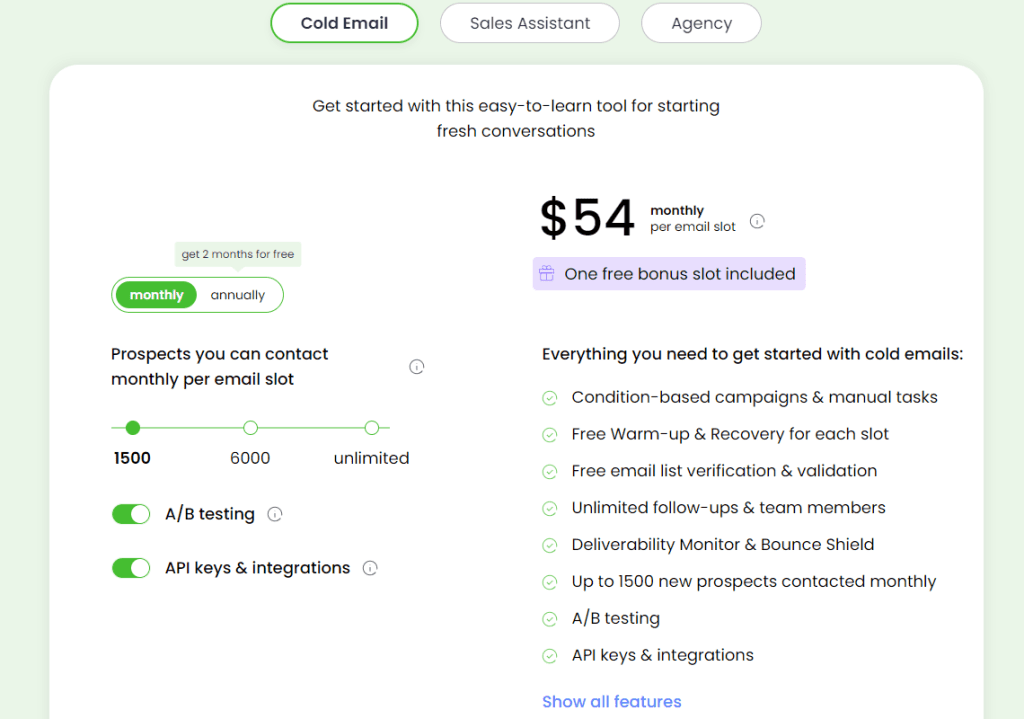 The Alternatives
Diverse needs call for diverse tools. Here are nine alternatives that offer something Woodpecker doesn't.
1. Hunter.io
Summary
Hunter.io specializes in finding and verifying professional emails. It's perfect for businesses that prioritize lead generation.
Unique Features
Salesforce Integration

Bulk Email Verification
Free Plan available, with paid plans starting at $49/month.
Quick snapshot of its pricing page:
2. Yesware
Summary
Yesware is all about tracking, personalization, and analytics. It even offers LinkedIn integration for broader outreach.
Unique Features
LinkedIn Integration

Follow-Up Reminders
Free Forever Plan is available, with more comprehensive features in paid plans.
Quick snapshot of its pricing page:
3. Autoklose
Summary
Autoklose focuses on automation and CRM integration, streamlining your email campaigns from start to finish.
Unique Features
Drip Campaign Creation

CRM Integration
Starts at $59.99/month/user with an Auto Kloser Plan.
Quick snapshot of its pricing page:
4. Instantly
Summary
With Instantly's automated domain rotation feature, it's like having a dedicated IT manager ensuring your emails always land in the inbox, not the spam folder.
Unique Features
Unlimited Domains and Automated Domain Rotation

Cold Email Accelerator
Growth Plan starts at $37/month.
Quick snapshot of its pricing page:
5. Snov.io
Summary
Snov.io is a one-stop-shop for cold emailing. It offers advanced search capabilities and powerful email verification features.
Unique Features
Email Finder

Chrome Extension for LinkedIn
The Starter Plan begins at $39/month, providing 1,000 credits for your various needs.
Quick snapshot of its pricing page:
6. MailShake
Summary
MailShake is all about shaking up your email game. From powerful mail merges to easy campaign management, it's got you covered.
Unique Features
Mail Merge with Auto-Follow-Ups

A/B Testing for Campaigns
The Email Outreach Plan starts at $58/month per user, giving you all the basic tools to kickstart your email campaigns.
Quick snapshot of its pricing page:
7. Quickmail
Summary
Quickmail is designed for those who want a quick and straightforward solution to cold emailing, without the bells and whistles.
Unique Features
Pre-Built Campaign Templates

Automated Unsubscribe Handling
Starting at $49/month, Quickmail offers an easy entry into automated cold emailing.
Quick snapshot of its pricing page: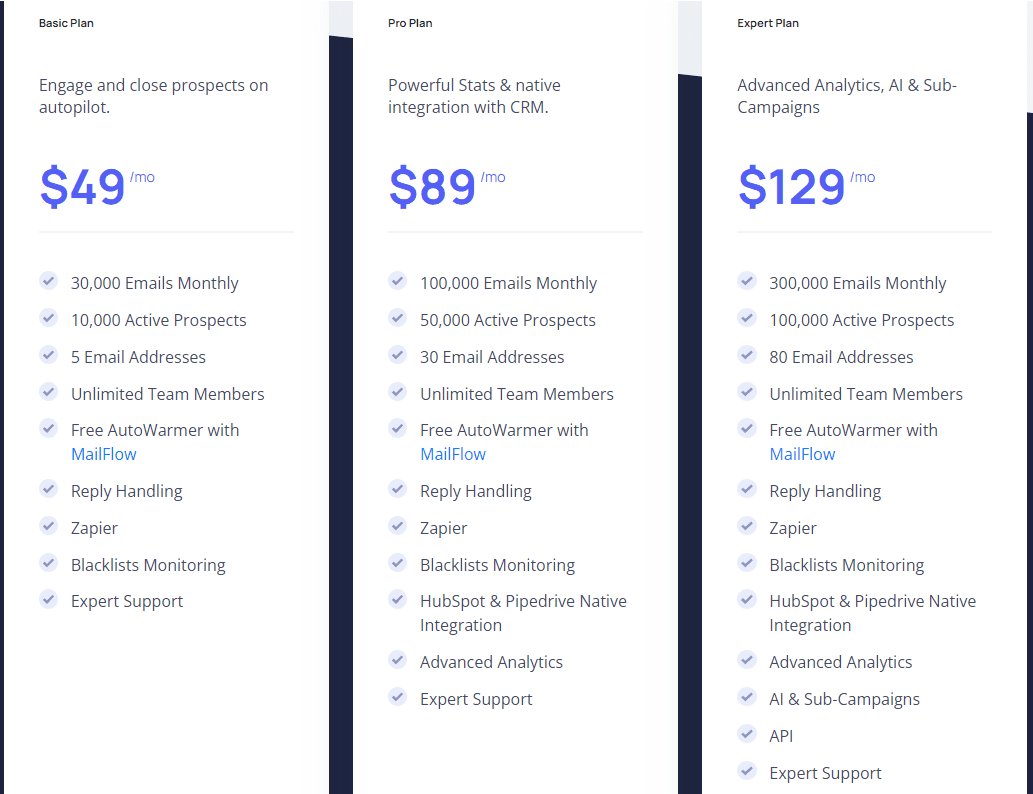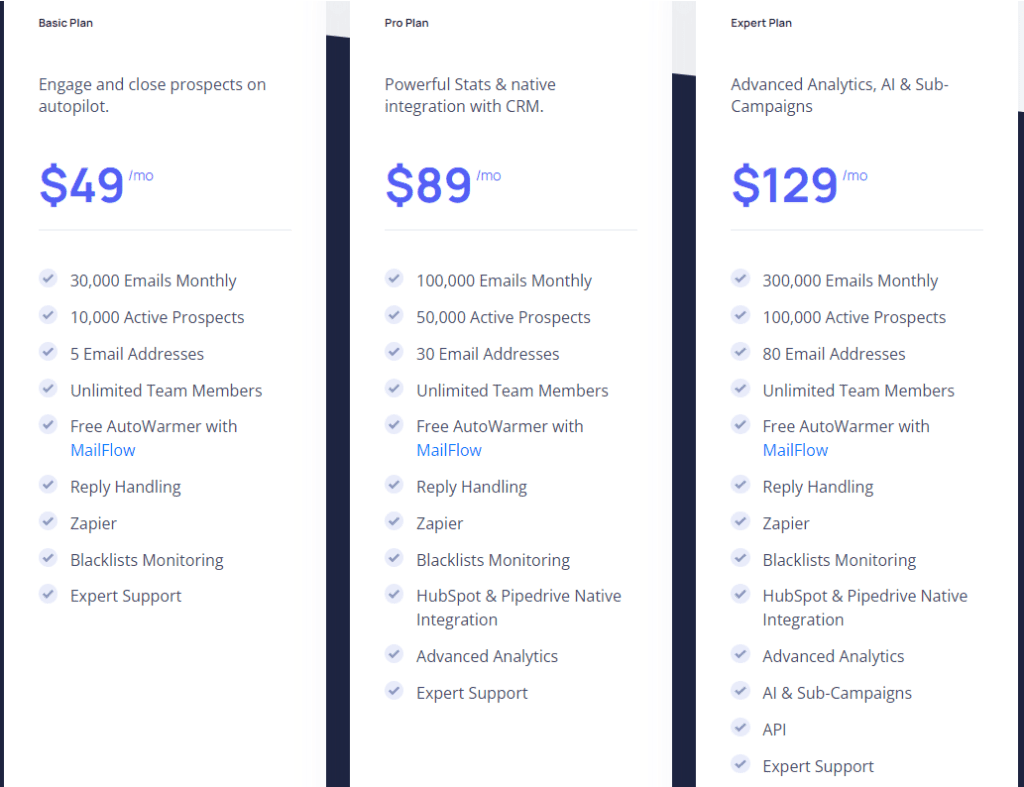 8. SendinBlue
Summary
SendinBlue is not just an email tool; it's a complete marketing suite. If you're looking for an all-in-one solution, look no further.
Unique Features
SMS Campaigns

Landing Page Builder
A Free Plan is available, with paid plans starting as low as $19/month. You can also customize your Free, Starter or Business plan with additional features.
Quick snapshot of its pricing page:
9. Lemlist
Summary
Lemlist stands out for its engaging templates and high deliverability rates, making it a solid choice for those focusing on engagement and response rates.
Unique Features
Dynamic Landing Pages

Customizable Templates
Starting at $59/month, Lemlist offers different plans to supercharge your email marketing.
Quick snapshot of its pricing page: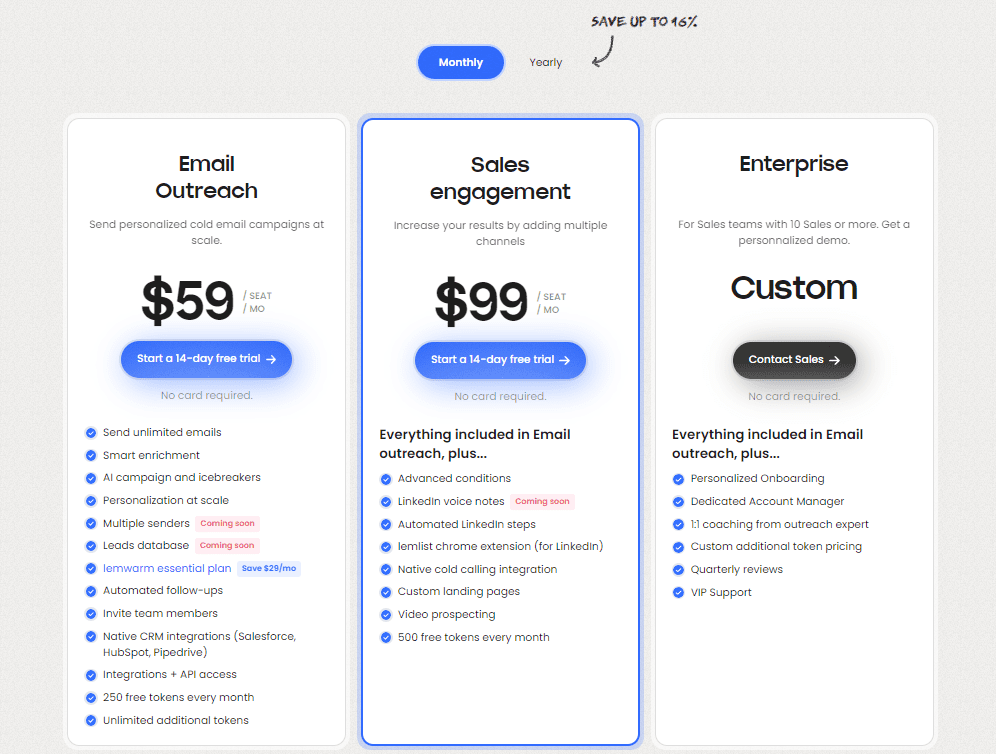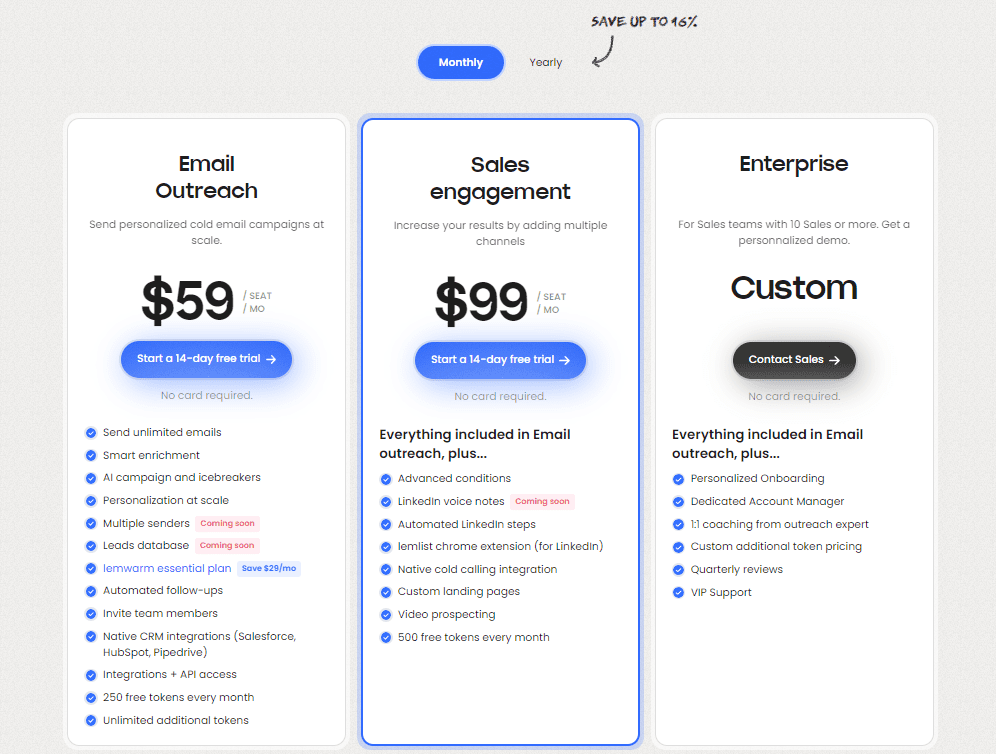 Conclusion
While Woodpecker has been a staple in the cold emailing world, there's a whole universe of tools out there, each with its unique set of features. Whether you're looking for advanced analytics, CRM integration, or a complete marketing suite, there's likely an alternative to Woodpecker that fits the bill.
So go ahead, explore these tools, and you might just find the perfect fit for your cold email campaigns.
For a broader perspective on cold email tools, feel free to dive into our comprehensive list of the 22 best cold email tools.
Further Reading
If you found this article enlightening, don't miss out on our other deep dives—check out these articles: