In B2B marketing, scaling content is crucial and hinges on three pillars: AI Scaling, Content Creation Systemization, and Idea Library Building. A standout strategy involves crafting a diverse content set—from a long-form article to 2-4 shorts, LinkedIn hooks, and multiple Twitter posts—in just 30 minutes from a single Loom video, thanks to AI. This efficient system not only streamlines content production but also makes it accessible to novices, allowing teams to generate compelling, high-quality content at scale.
Main Takeaways:
Scaling with AI:

Leverage AI to diversify content types, from videos to articles, enhancing efficiency and output in B2B marketing.

Systemizing Content Creation:

Implement structured processes to transform single inputs into multiple content formats, ensuring consistency and forward planning.

Building an Idea Library:

Develop a repository of content ideas to fuel continuous creation and align with strategic goals.
Quick Table: Scaling B2B Content Creation with 3 Strategies
| Strategy | Implementation Method | Benefits |
| --- | --- | --- |
| Scaling with AI | Utilize AI tools to generate diverse content formats like articles, LinkedIn posts, and more from a single Loom video. | Speeds up content creation, ensures consistency, and allows for rapid scaling. |
| Systemizing Content Creation | Establish a workflow that includes creating long-form articles, shorts, and social media posts. | Streamlines the process, making it replicable and efficient even for those with no prior experience. |
| Building a Library of Ideas | Continuously gather and organize content ideas for future use. | Provides a ready-to-use repository of topics, ensuring a steady flow of content. |
Table of Contents
Introduction

Creating and Scaling a Content Engine

Benefits of a Content Engine

Why Scaling is Important

How To Scale Out Your Content Engine

Strategy 1: Scaling with AI

The Benefits of AI in Content Marketing

6 Different Ways To Use AI in Scaling Content Creation

The Essential Human Touch

Strategy 2: Systemizing Content Creation

The Power Of A System

Implementing The System
The Role of AI in Systemizing Content
My Personal Content Systemization Strategy
Scheduling Content: The Power of Strategic Timing

Strategy 3: Building A Content Library

The Content Idea Repository

The Importance of Pre-Planning
Cultivating A Rich Idea Garden
The Proactive Approach

Conclusion: The Future of B2B Content Marketing is Here
Introduction
In the B2B sector, content isn't just king—it's the ace in the deck. It's the driving force behind engagement, lead generation, and conversions. Its strategic importance is paramount, as it serves not only to inform but also to educate and persuade potential clients in a landscape where the sales cycles are longer and decisions are made at a more deliberate pace.
Creating and Scaling a Content Engine
Creating a content engine is one of the most effective ways to bring inbound inquiries to your products and services.
Content has the unique ability to teach and show people the 'why', the 'how', and the 'what to do'. It's a way to communicate your values and methodologies, drawing in leads through platforms like LinkedIn, social media, and SEO. In essence, a content engine becomes a beacon, attracting those who resonate with your message and approach.
Now, with the advent of sophisticated tools, scaling out this content engine has become more feasible than ever.
Benefits of a Content Engine
| Benefit | Description |
| --- | --- |
| Educates Prospects | Content provides the 'why' and 'how', teaching potential clients about your products and services. |
| Showcases Values | Through content, you can communicate your company's values and methodologies. |
| Drives Inbound Leads | A well-oiled content engine attracts leads organically through various platforms. |
| Enhances SEO | Quality content boosts your SEO efforts, making you more visible to those seeking your solutions. |
| Builds Authority | Consistent, valuable content establishes your brand as a thought leader in your industry. |
| Nurtures Relationships | Content keeps your audience engaged, nurturing relationships even before the first contact. |
Why Scaling is Important
Necessity for Growth

: In the digital age, scaling content marketing is essential for survival and expansion.

Wider Audience Reach

: Scaling enables you to connect with a broader audience.

Consistent Multi-Channel Presence

: Maintaining a presence across various platforms is crucial, and scaling helps achieve this.

Competitive Edge

: To stay ahead in the game, scaling ensures you're not left behind by competitors.

Resource Maximization

: It's about leveraging your resources to create more content without sacrificing quality.

Message Amplification

: Scaling ensures your message is heard loud and clear across the digital landscape.
How To Scale Out Your Content Engine
Scaling your content engine involves a strategic blend of innovation, technology, and process optimization. In the following sections, we'll delve into the 3 ways you can scale your content engine:
Leveraging AI to supercharge your content creation

Systemizing your content production for maximum efficiency

Building a library of ideas that keeps your content fresh and relevant.
Strategy 1: Scaling with AI
The Benefits of AI in Content Marketing
Artificial Intelligence (AI) has not just entered the content marketing arena; it has transformed the playing field.
Efficiency at Scale
Small Team, Big Output

: With AI, a small team can produce content at a scale that was previously unimaginable. It's like having a virtual 10-man team at your disposal.

Here's a real-life scenario:

I'm part of a two-person team, and thanks to AI, we're producing what used to take a 10-person team just a year ago.
Quality Content Creation
Elevating Content Quality

: Contrary to popular belief, AI isn't just for generating bulk, low-quality content. It's a powerful tool for crafting high-quality, thought-provoking pieces.
Streamlined Content Process
Simplifying the Workflow

: AI can be integrated into every step of the content creation process, from research to writing, making life significantly easier.
Personalization and SEO
Tailored and Visible

: AI algorithms can analyze data to create highly personalized content, resonating more deeply with your audience, and optimize content for search engines, ensuring your content ranks higher and reaches a wider audience.
Content Analysis and Quality Control
Data-Driven Strategy and Consistency

: AI can analyze existing content to identify gaps and opportunities, guiding your content strategy with data-driven insights, and maintain a consistent tone and style across all your content, ensuring brand consistency.
In the following sections, I'll share some practical examples of how I'm using AI to supercharge my content creation, debunking the myth that AI is synonymous with low-quality output. Let's dive in and explore the transformative power of AI in content marketing.
6 Different Ways To Use AI in Scaling Content Creation
The integration of AI in content creation has opened up a plethora of opportunities for content marketers. Here are six innovative ways I use to leverage AI for content creation:
Summary Table: 6 Different Ways To Use AI in Scaling Content Creation
| AI Content Creation Method | Implementation |
| --- | --- |
| AI-Powered Explainer Videos | Utilize Loom AI to record and edit explainer videos with features like automatic filler words and silence removal. |
| Transforming Transcripts into Long-Form Articles | Use Loom to record videos and ChatGPT to convert transcripts into detailed articles. |
| Viral Clips with OpusClip | Upload long-form content to OpusClip for AI to generate engaging clips. |
| Research and Keyword Analysis | Combine Google Keyword Planner with ChatGPT for in-depth keyword research and content planning. |
| Analyzing and Improving Articles | Use WebPilot and ChatGPT to analyze and improve upon existing articles. |
| Content Creation For LinkedIn and Twitter | Leverage ChatGPT to craft compelling hooks and posts for LinkedIn and Twitter. |
1. AI-Powered Explainer Videos
By utilizing tools like Loom AI, you can create explainer videos very quickly. Loom AI offers a suite of functionalities designed to enhance video recording and editing, making the process faster and more efficient.
| Feature | Description |
| --- | --- |
| Auto Titles | Automatically generates titles for your videos. |
| Auto Summaries | Provides concise summaries of your video content. |
| Auto Chapters | Divides your video into chapters for easy navigation. |
| Auto Tasks | Identifies and creates tasks from your video content. |
| Filler Word Removal | Eliminates unnecessary filler words from your recordings. |
Step-by-Step Guide for Creating Explainer Videos using Loom AI
| Step | Action | Description |
| --- | --- | --- |
| 1 | Record Video | Start by recording your explainer video using Loom. This could be a tutorial, a product walkthrough, or any informative content. |
| 2 | AI Editing | Utilize Loom AI's editing features. The AI can automatically remove filler words and silences, making your video more concise and professional. |
| 3 | Enhancements | Add any additional enhancements to your video, such as annotations, highlights, or callouts, to make key points stand out. |
| 4 | Export & Share | Once your video is polished and ready, export it from Loom and share it across your desired platforms, be it YouTube, social media, or embedded in a blog post. |
2. Transforming Transcripts into Long-Form Articles
Leveraging the power of AI, you can transform the transcripts of your Loom videos into comprehensive long-form articles.
This process not only maximizes the utility of your video content but also enhances your content marketing strategy by providing additional written material for your audience.
Step-by-Step Guide for Creating Long-Form Articles from Loom Transcripts
| Step | Action | Description |
| --- | --- | --- |
| 1 | Record | Record your video using Loom. |
| 2 | Copy Transcript | Once your video is complete, copy the transcript that Loom provides. |
| 3 | Prime ChatGPT 4 | Prepare ChatGPT 4 with custom instructions tailored to your content needs and style preferences. |
| 4 | Input Transcript | Paste the copied transcript into ChatGPT, instructing it to craft a long-form article based on the content. |
| 5 | Use WebPilot Plug-In | If you're utilizing the WebPilot plug-in of ChatGPT, instruct it to create an outline by analyzing your transcript and referencing additional articles for a comprehensive structure. |
| 6 | Generate Outline | Allow ChatGPT with WebPilot to generate an article outline, ensuring it aligns with your content strategy and goals. |
| 7 | Write Article | Command ChatGPT to expand on the outline and write a detailed long-form article, incorporating your custom instructions and desired tone. |
| 8 | Review and Edit | Review the generated article for accuracy, coherence, and engagement, making edits as necessary to align with your brand voice. |
By following these steps, you can efficiently convert your Loom video transcripts into valuable long-form articles, enriching your content library and providing your audience with diverse formats to engage with your brand.
Finding Custom Instructions and Utilizing Plugins in ChatGPT-4
To harness the full potential of ChatGPT-4, it's crucial to understand how to find and use custom instructions, as well as how to integrate various plugins for enhanced functionality. Here's a guide to help you navigate these features:
Custom Instructions in ChatGPT-4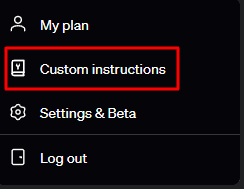 Custom instructions are specific directives that you provide to ChatGPT-4 to tailor its responses and content generation to your unique requirements. Here's how to use them:
Identify Your Needs

: Determine the specific style, tone, and content structure you require for your project.

Research Examples

: Look for examples of custom instructions used by others in similar contexts. This can be done through online communities, forums, or by exploring the documentation provided by OpenAI.

Craft Your Instructions

: Based on your research, craft a set of custom instructions that clearly convey your content requirements to ChatGPT-4.

Test and Refine

: Input your custom instructions into ChatGPT-4 and assess the output. Refine your instructions as needed to achieve the desired results.
Utilizing Plugins in ChatGPT-4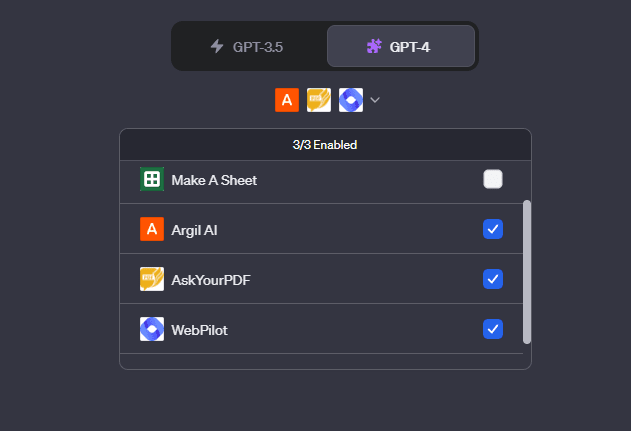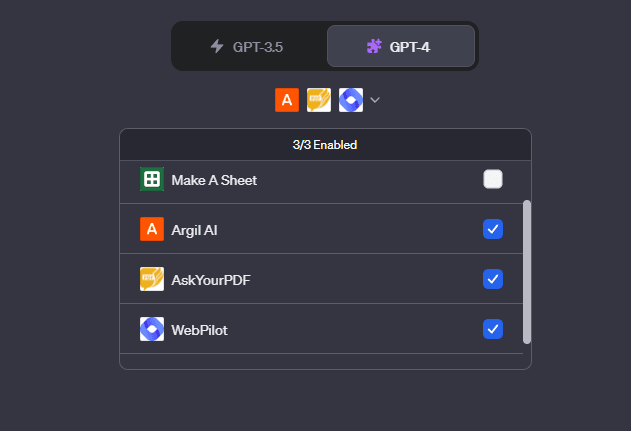 Plugins in ChatGPT-4 extend its capabilities by allowing it to interact with external tools and services. Here's how to use plugins:
Explore Available Plugins

: Visit the OpenAI website or other reputable sources to explore the range of available plugins for ChatGPT-4.

Select Relevant Plugins

: Choose plugins that align with your content goals, such as WebPilot for content research or AskYourPDF for extracting information from PDFs.

Integrate Plugins

: Follow the instructions provided by the plugin developers to integrate them into your ChatGPT-4 setup.

Use Plugins in Your Workflow

: Incorporate the plugins into your content creation process, using them to enhance research, analysis, and generation tasks.
By effectively utilizing custom instructions and integrating plugins, you can significantly amplify the capabilities of ChatGPT-4, making it a powerful ally in your content marketing endeavors.
3. Viral Clips with OpusClip
Harnessing the power of AI, OpusClip revolutionizes the way we repurpose long-form video content into engaging, viral clips.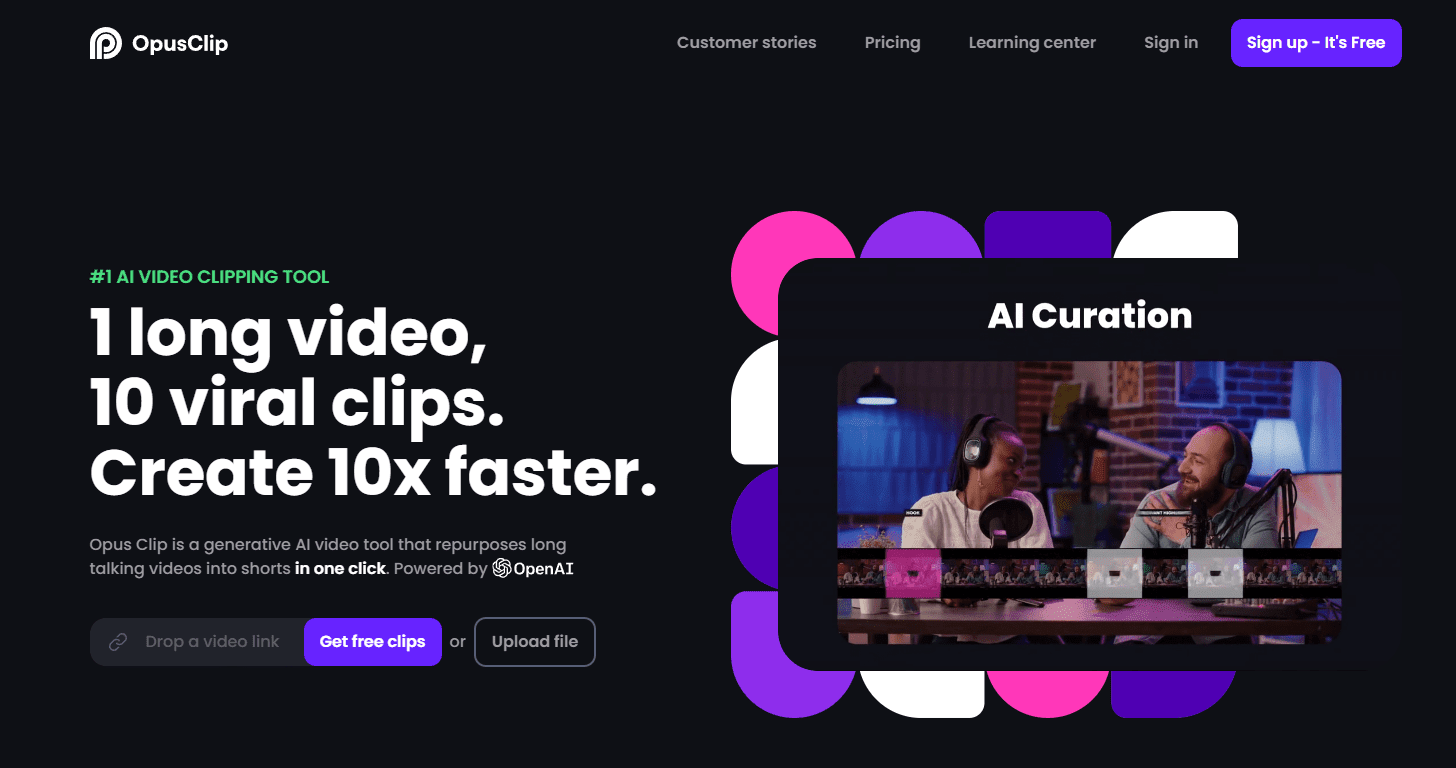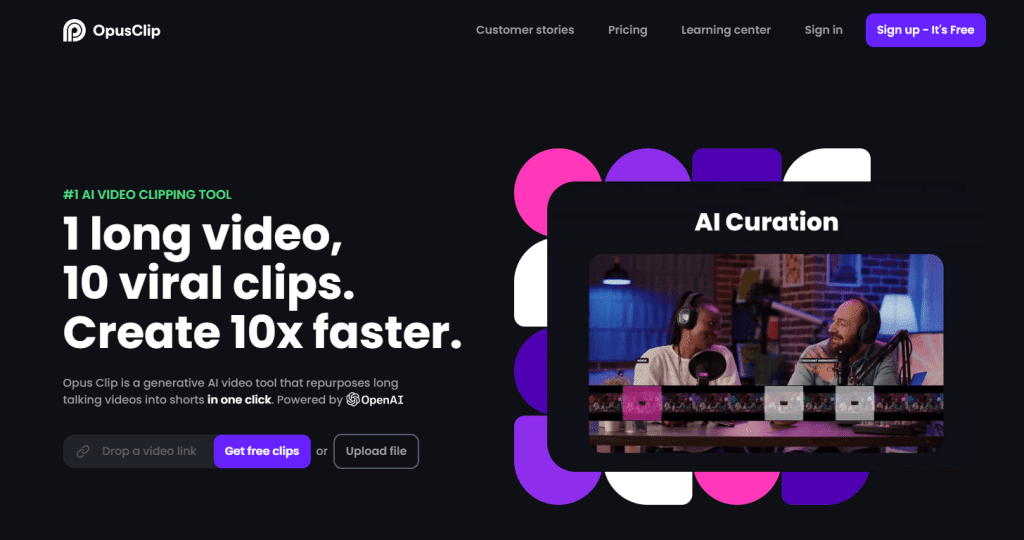 Step-by-Step Guide for Creating Viral Clips from Long-Form Video
| Step | Action | Description |
| --- | --- | --- |
| 1 | Upload Video | Upload your long-form video content to OpusClip. This could be a detailed tutorial, a product demo, or any informative video. |
| 2 | AI Analysis | Allow OpusClip's AI to analyze the video. The AI will sift through the content to pinpoint the most engaging and relevant segments. |
| 3 | Clip Generation | The AI then automatically generates up to 10 concise, impactful clips from the original video. |
| 4 | Enhancement | OpusClip enhances the clips by adding captions and emojis, making them more engaging and easier to understand at a glance. |
| 5 | Review & Edit | Review the generated clips. You can make any necessary edits or tweaks to ensure they align with your brand voice and message. |
| 6 | Export & Share | Once you're satisfied, export the clips and share them across your marketing channels—social media, email newsletters, or embedded in blog posts. |
4. Research and Keyword Analysis
In the realm of content creation, especially for blog articles, the preliminary steps are crucial. This involves a meticulous process of keyword research, competitor analysis, and crafting a comprehensive outline. Traditionally, this process was time-consuming, often stretching beyond a couple of hours. However, with advancements in AI, particularly with tools like ChatGPT and Google's Keyword Planner, this process has been significantly streamlined.
Utilizing Google Keyword Planner
Google Keyword Planner is a free tool that serves as a starting point for keyword research. Here's how you can leverage it:
Keyword Identification

: Begin by typing in a broad keyword related to your niche, such as "B2B content strategy."

Data Download

: The tool will generate a list of related keywords. Download this data, usually in a CSV format.
Advanced Analysis with ChatGPT
With the keyword data in hand, you can now turn to ChatGPT for deeper analysis:
Data Upload

: Import the CSV file into ChatGPT, which is equipped to handle advanced data analysis.

Keyword Analysis

: Instruct ChatGPT to sift through the hundreds or thousands of keywords, identifying patterns, trends, and gaps.

Content Planning

: Request ChatGPT to pinpoint a primary 'pillar' content piece and several supporting articles, creating a content matrix that interlinks and reinforces each other.
Step-by-Step Guide for Keyword Analysis and Content Planning
| Step | Action | Description |
| --- | --- | --- |
| 1 | Keyword Research | Use Google Keyword Planner to identify relevant keywords for your niche. |
| 2 | Data Export | Download the keyword data in CSV format from the Keyword Planner. |
| 3 | ChatGPT Upload | Upload the CSV file to ChatGPT for advanced analysis. |
| 4 | Analyze Keywords | Instruct ChatGPT to analyze the keywords, identifying the most valuable and relevant ones. |
| 5 | Content Strategy | Ask ChatGPT to suggest a pillar content piece and several supporting articles based on the keyword analysis. |
| 6 | Content Matrix Creation | Use ChatGPT's suggestions to create an interlinked content matrix for SEO optimization and authority building. |
| 7 | Rapid Content Generation | Utilize ChatGPT to quickly draft outlines or even full articles based on the content plan. |
If you're eager to delve into the intricacies of AI-assisted keyword planning, be sure to check out my detailed article for a comprehensive understanding of harnessing AI for your SEO success.
5. Analyzing and Improving Articles
The fifth method I employ involves a critical analysis of existing articles. This step is crucial for understanding the competitive landscape and identifying opportunities for improvement.
Step-by-Step Guide for Analyzing and Improving Competitive Articles with ChatGPT and WebPilot
Here's how AI, particularly ChatGPT and the WebPilot plugin, can be instrumental in this process:
| Step | Action | Description |
| --- | --- | --- |
| 1 | Competitor Research | Identify the top articles on Google Page 1 in your niche that you want to outrank. |
| 2 | WebPilot Integration | Use the WebPilot plugin to input these articles into ChatGPT. |
| 3 | Article Analysis | Request ChatGPT to conduct a thorough analysis of these articles, focusing on SEO and content quality. |
| 4 | Outline Creation | Based on the analysis, instruct ChatGPT to create a superior outline that addresses gaps and goes deeper into the subject. |
| 5 | Article Drafting | Utilize ChatGPT to draft sections or entire articles quickly, ensuring they align with the improved outline. |
6. Content Creation For LinkedIn and Twitter
Crafting compelling content for LinkedIn and Twitter can be a challenging task, but with the advent of AI tools like ChatGPT, the process has become more streamlined and accessible.
The Challenge of Crafting LinkedIn Hooks
Creating captivating hooks for LinkedIn posts used to be a daunting task. It required a deep understanding of the audience, the ability to distill complex ideas into engaging snippets, and a creative flair that not everyone possesses. The process was time-consuming and often frustrating, especially when trying to stand out in a sea of content.
Simplifying with ChatGPT
Now, with ChatGPT, the process of creating hooks has been simplified. ChatGPT can assist in generating a variety of hooks based on the core content, providing a starting point that can be refined and personalized.
Step-by-Step Guide for LinkedIn and Twitter Content Creation
| Step | Action | Description |
| --- | --- | --- |
| 1 | Summarize Idea | Use ChatGPT to distill the essence of your content for a LinkedIn post. |
| 2 | Personalize Content | Rewrite the summary in your own style to add a personal touch. |
| 3 | Brainstorm Hooks | Leverage ChatGPT to generate captivating hooks for your LinkedIn audience. |
| 4 | Adapt for Twitter | Condense the LinkedIn post into shorter, tweet-sized content. |
| 5 | Maintain Core Message | Ensure the tweets reflect the main idea and value of the original content. |
| 6 | Engage on Twitter | Use the tweets to spark conversations and engage with your Twitter audience. |
Incorporating AI into your content creation process doesn't mean relinquishing the human element. It's about enhancing your capabilities, making the process more efficient, and allowing you to focus on adding the creative and personal touches that truly engage your audience.
The Essential Human Touch in AI-Assisted Content Creation
While AI has revolutionized the content creation landscape, making processes faster and more efficient, it's crucial to understand that AI is a tool, not a replacement for the human touch.
The human touch is essential for ensuring the content is creative, empathetic, resonates with the audience, aligns with the brand's voice, is ethically sound, and has the final polish that only a human can provide. It's the synergy between AI efficiency and human creativity that leads to truly impactful content.
Strategy 2: Systemizing Content Creation
In the quest to scale your content engine, systemizing content creation is a pivotal strategy. It's about establishing a clear, repeatable process that ensures the consistent production of high-quality content.
The Power of a System
Consistency:

A system ensures that you're regularly producing content, which is crucial for keeping your audience engaged and your brand top of mind.

Quality Control:

With a system in place, each piece of content goes through the same rigorous process, ensuring a consistent level of quality.

Can Be Taught:

A clear system can be easily taught to others, allowing you to delegate content creation and scale your efforts without a drop in quality.
Implementing the System
Develop Your Process:

Start by outlining each step of your content creation process. This might include research, writing, editing, and distribution.

Document Everything:

Create detailed documentation for each step. This could be in the form of checklists, templates, or standard operating procedures.

Test and Refine:

Put your system to the test. As you use it, you'll likely find areas that can be improved. Refine your system over time to make it more efficient.

Delegate:

Once your system is solid, you can bring in others to help. Because the process is so well defined, you can hire individuals who may not have extensive experience in content creation but can follow instructions effectively.
The Role of AI in Systemizing Content
AI tools can be integrated into your system to enhance efficiency. For example, AI can assist with:
Content Ideation:

Generating topics and headlines that resonate with your audience.

Writing Assistance:

Providing a starting point for articles or helping to overcome writer's block.

Editing and Proofreading:

Catching errors and suggesting improvements to the flow and readability of your content.
The Importance of Elite Talent
While systemizing and AI can take you far, the importance of having elite talent on your team cannot be overstated. These individuals bring a level of expertise and creativity that AI cannot replicate. They're adept at utilizing AI tools to their fullest potential, ensuring that your content is not just efficient but also impactful.
For those looking to elevate their content marketing game with top-tier expertise, I highly recommend checking out my company, Marketing Hero. We offer access to elite-level freelance marketers who excel in utilizing AI for content creation. These professionals are at the pinnacle of the industry, offering cutting-edge strategies and insights that justify their premium value. They're not just up-to-date; they're shaping the future of content marketing.
My Personal Content Systemization Strategy
In my journey to scale content creation, I've developed a personal system that maximizes output while maintaining quality. Here's a glimpse into my strategy:
The Process in Action
My system revolves around creating a diverse range of content from a single source. Here's the breakdown:
The Process in Action
Create an Explainer Video:

I start by recording a detailed video on a chosen topic, ensuring it's rich with insights and value.

Generate a Transcript with Loom AI:

Loom AI's transcription feature provides me with a written version of my video, which serves as the foundation for further content.

Transform the Transcript into a Long-Form Article:

I input the transcript into ChatGPT, which helps me structure and expand it into a long-form article.

Produce 2-4 Short Clips with Opus Clips:

By uploading the video to Opus Clips, I get several short, shareable clips that highlight key points from the video.

Craft a LinkedIn Post with ChatGPT:

Finally, I use ChatGPT to help me distill the core message into a LinkedIn post, ensuring it's engaging and encourages interaction.
The Benefits
This system allows me to:
Maximize Content Output:

From one video, I can create multiple pieces of content, each suited for different platforms.

Maintain Consistency:

By following this system, I ensure a steady stream of content, keeping my audience engaged.

Enhance Efficiency:

AI tools like Loom AI, Opus Clips, and ChatGPT streamline the content creation process, saving me time and effort.
Scheduling Content: The Power of Strategic Timing
In the realm of content creation, timing is everything. Imagine dedicating just two hours each day to crafting a diverse array of content: one long-form video, a LinkedIn post, and two to four short videos. The key, however, lies not just in creation but in strategic scheduling.
The Justin Welsh Method
Justin Welsh, a prominent figure in the content marketing world, advocates for a methodical approach to content distribution. He emphasizes the importance of not bombarding your audience with repetitive content. Instead, he suggests spacing out your posts—perhaps one this week, another the next, and so on. This way, you're not rehashing the same topic incessantly.
The Hub and Spokes Model
Welsh's "Hub and Spokes" model is particularly intriguing. It starts with a single content idea—the hub—and then branches out into various formats—the spokes. This could mean transforming a core idea into a listicle one week, a how-to guide the next, and other creative formats in subsequent weeks. It's a systematic way of repurposing content without it feeling stale.
My Personal Strategy
I've been refining my own system, drawing inspiration from Welsh's approach. Here's a snapshot of my process:
Content Creation

: Allocate two hours daily to produce a diverse mix of content.

Strategic Scheduling

: Use scheduling tools to distribute this content over different days and weeks. This prevents content fatigue and keeps your audience engaged with fresh material.

Systematic Repurposing

: Like Welsh, I believe in the power of repurposing a single idea into various formats, ensuring that the core message resonates across different mediums.
The Competitive Edge
By adopting a systematic approach to content creation and scheduling, you can stay leagues ahead of the competition. Many are still grappling with these concepts, so by mastering them now, you position yourself at the forefront of content marketing.
Strategy 3: Building a Content Idea Library
The cornerstone of any successful content strategy is a well-stocked library of content ideas. It might sound rudimentary, but the value of this resource cannot be overstated.
The Content Idea Repository
Whether it's a Notion board, a Google Sheet, or any other tool of your preference, having a centralized location for your content ideas is crucial. This repository should be easily accessible, allowing you to add new ideas on the fly—be it while shopping or during a sudden burst of inspiration.
The Importance of Pre-Planning
One should never start their day without a clear idea of the content they intend to create. Pre-planning your content at least a day in advance is essential. It ensures that you have a direction and purpose as soon as you sit down to work, eliminating the risk of procrastination or aimless browsing.
Cultivating a Rich Idea Garden
Your content idea library should be a living, breathing entity, constantly growing with fresh ideas. But where do these ideas come from?
Browsing Other People's Content:

There's wisdom in the saying, "Steal like an artist." Explore what others in your field are discussing. Read their blog articles, watch their videos, and immerse yourself in their content.

Adding Your Unique Spin:

While it's okay to draw inspiration from others, it's crucial to infuse your content with your unique perspective. What new angle can you bring to the table? How can you differentiate your content from the rest?
The Proactive Approach
By maintaining a content idea library, you're adopting a proactive approach to content creation. You're not just reacting to trends or scrambling for topics; you're strategically building a reservoir of ideas that will fuel your content engine for weeks, even months, to come.
In summary, a content idea library is not just a convenience; it's a strategic asset. It ensures that you're never at a loss for what to create next, keeping your content strategy focused, consistent, and perpetually forward-moving.
Conclusion: The Future of B2B Content Marketing is Here
As we navigate the ever-evolving landscape of content marketing, it's clear that the future belongs to those who can master the art of blending systemized processes, AI-enhanced efficiency, and the irreplaceable human touch.
My content system is not static; it's continually evolving. The goal is to create a robust content engine that not only keeps up with the current pace but also stays ahead of the curve, scheduling content months in advance and incorporating new platforms with minimal effort.
Main Takeaways:
Systemization is Key

: Establishing a repeatable, documented process for content creation ensures consistency and quality, making it easier to scale and delegate.

AI is a Game-Changer

: Leveraging AI tools like ChatGPT, Loom AI, and Opus Clips can significantly streamline the content creation process, from ideation to distribution.

The Human Element is Irreplaceable

: Despite the wonders of AI, the human touch remains crucial. Creativity, emotional intelligence, and ethical considerations are aspects that AI cannot replicate. It's the human touch that adds nuance, empathy, and the final polish that elevates content from good to great.

A Library of Ideas is a Strategic Asset:

A well-maintained content idea library is the fuel for your content engine. It ensures a steady flow of fresh, relevant, and engaging content, keeping your strategy proactive rather than reactive.
In conclusion, the fusion of systemization, AI, and human creativity is not just the future; it's the present. It's a dynamic, ever-improving approach that promises to keep your content strategy agile, relevant, and impactful. As we continue to explore and integrate new technologies and platforms, the potential for content marketing is boundless. The key is to remain adaptable, innovative, and always human-centric at the core.
Further Reading
Dive deeper into the AI revolution with our other insightful articles! Explore how AI can enhance your cold email writing, streamline your keyword planning, navigate Google's policies on AI-generated blogging, and learn about the three key principles for B2B growth. There's a world of knowledge waiting for you!
Check Out: